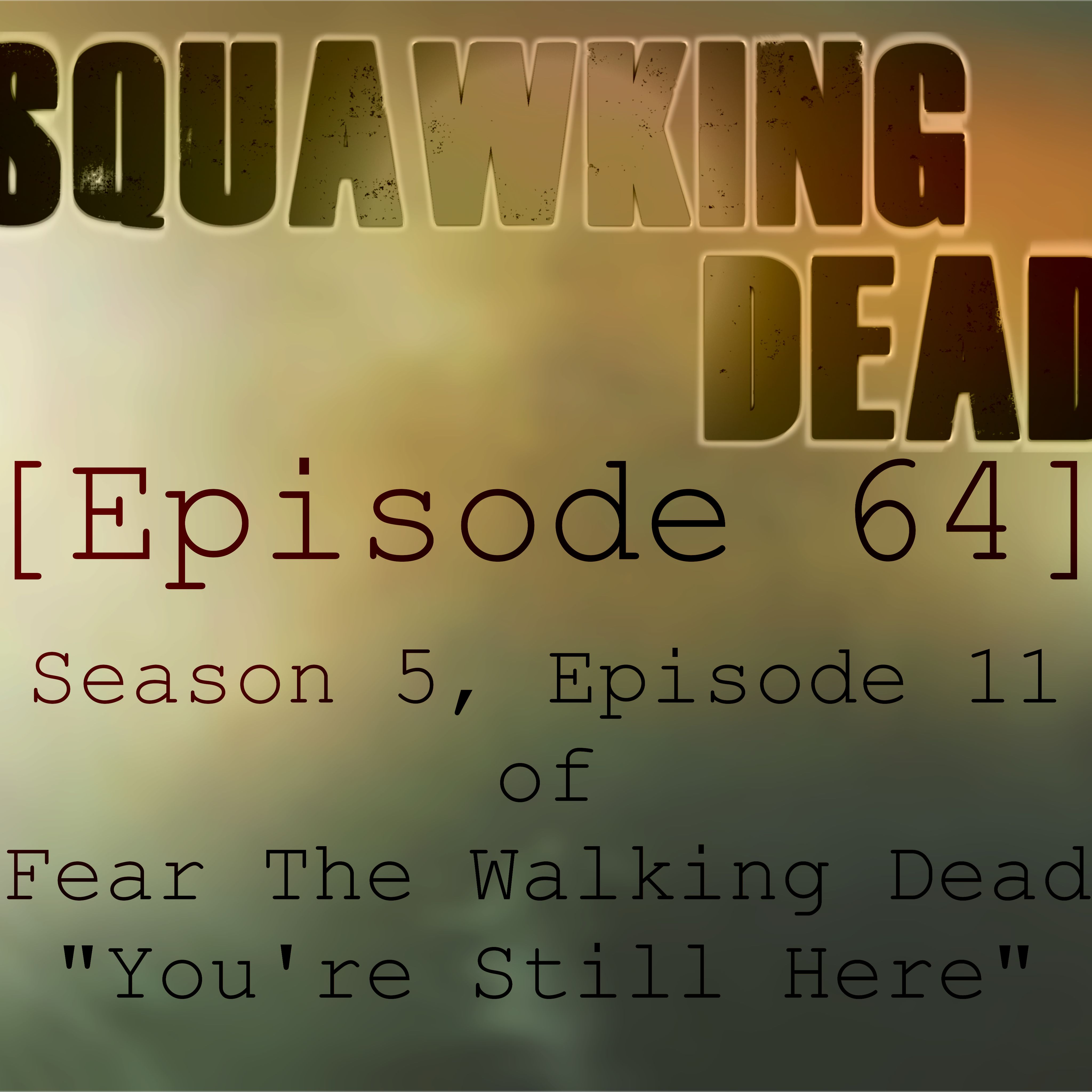 ---
We finally got to the bottom of who's been painting those trees: A question that's been burning inside our skulls since this season's #MidSeasonFinale. We're also getting closer to finding out why Logan even needs a "Dick Squad" ...and all the gas.
6 WEEKS LEFT to our #WeAreSQUAWKINGDEAD #TheRoadToTHOUSANDS #Giveaway! Have you entered?!
PLEASE, donate to Rachael Burt's #fundraiser for #StJudes Hospital: every #donation gets us one step closer to SHAVING HER HEAD (like #AlphaTWD)!
---
| | |
| --- | --- |
| David Cameo: | |
| Meg The Geek (Dendy): | |
| Rachael Burt: | |
---
#CARYL abuse. HUGE shout-out to @JohnnyODell
Shut the f*ck up and everybody quits
Sept 7th: @Thorgon9 shaves Rachael's head in #SenoiaGA (live on Instagram) for St. Jude's
Meg heads to #KeystoneCon. #JasonDavidFrank
Wes is perceptive...ly deceptive. And the trees were not #MadisonClark
A world without Madison: better or worse? #CaveatEmptor if she returns. #GoT #GameofThrones #BringBackMadison?
Excellent visual direction by K.C. Colwell @Knoxcolwell
Logan and The Dick Squad = #TheSaviors? Who's in charge?

Logan "helping people": The road to #TheCommonwealth
CRM responsible for the Nuclear Meltdown? #TheSimpsons
Logan seems less Martha-like, this week. "Tick... tick... tick"

EXCELLENT #walker work at the beginning, "...you don't want this candy"
Appreciating #VictorStrand's growth. Devotion to #AliciaClark

Alica's growth and artistry (or was that Matt Sale?)

Alicia's trauma: should they have shown flashes from her killing Mel, last season? #TheVultures
Wes' desperate need to not care. Sherry? Maybe... there's evidence
When is a "Wes" not a Wes? When he's actually Derek. Or mental(/Martha)

Alicia's "Sword Thing"... and WES IS MADISON!
Wes represents us, the viewer
Was this episode filler? Sacrificing stories of some characters for others

and the Director of this episode, K.C. Colwell, pops on our #InstagramLive

Logan's knowledge of #AltheaSzewczykPrzygocki's tape backups
"How many people have you killed?" wait, you ain't #RickGrimes?! TWD parallels

Is Wes more concerned with material things?
Wes killing his shadow: the value of beauty and the denial in being wrong
Wes is totally meta

Why does Wes decide to assist Alicia?

#ColbyHollman's rapid ascent into #television acting. Shout-Out to @MamaDeadHead & @wallaani
The Return of SWORD THING!

Meta: "People are people and they're just gonna leave you wanting more."
#IfyoureReadingThisYoureStillHere #NoOnesGoneUntilTheyreGone

it's not about Madison, but Alicia's own evolution

#MorganJones: We (not just he) are not not just the people we've lost

will he move towards Grace or madness? His shorter stick is a totem. Or Stick Thing
from #ILosePeopleILoseMyself to No One's Gone Until They're Gone... and wedding bands

#SneakPeeks: Promiseland? Meet Synagogue

Convoy puts up defenses, #DwightTWD likes Sarah's beer
#JohnDorie's in peril? #PeterJacobson's hilarious interaction with Charlie. Jewish #FatherGabriel
Sarah, "If we go down, we go down with the ship," to Dwight
Dwight's asshole. Echoes of #DanielSalazar's eyeroll
Synagogue #walkers: you're either in or out!

Bluebonnets! What's the purpose? And finding Sherry.
The manuscript thief exposes "Wes"
MESSAGE US if you have ANY trouble with The Giveaway!
Rachael's husband: MADISON IS WITH SHERRY (like a #Negan to Dwight)!