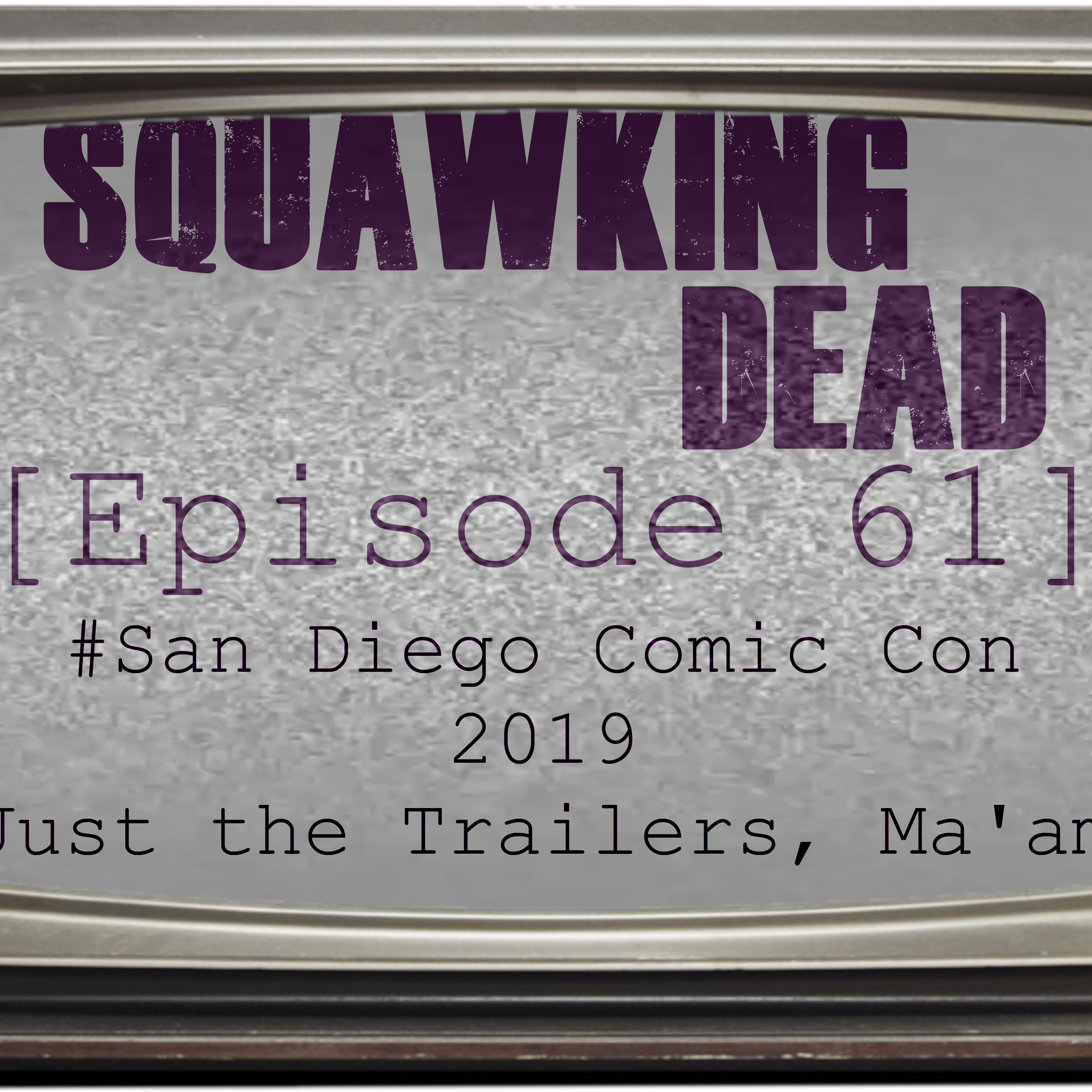 ---
[EDITOR'S NOTE: notes containing [UPDATED] at the beginning indicate an update since podcast release. Enjoy!]
SOOOO sorry about the technical difficulties during [Episode 60]'s #livestream; however, this will allow us to focus on breaking-down JUST the trailers released during #SDCC! #SanDiegoComicCon2019 #SDCC2019
PLEASE, donate to Rachael Burt's #fundraiser for #StJudes Hospital: every #donation gets us one step closer to SHAVING HER HEAD (like #AlphaTWD)!
Take advantage of Meg's latest TWD #giveaway
---
| | |
| --- | --- |
| David Cameo: | |
| Ashley Weidman (Talking Dead's Ultimate Fan 2018): | |
| Meg The Geek (Dendy): | |
| Rachael Burt: | |
---
#ShoutOuts at the top: @no._.sanctuary, @ironangelcreations, @celtictso, @wallaani
Check out the last #blog for all the new SDCC announcements (cast, trailers, debunked rumors, and #news)
Remember to enter Meg's giveaway & Rachael's fundraiser: Rachael's is 2/3 funded!
TWD #spinoff working-title: #TWDMonument. Pilot has crazy #Lost vibes.
Will Dave go to #NYCC to see Chris' BMNY DeadCast panel?! #NewYorkComicCon #NYCC2019 #NewYorkComicCon2019

[UPDATED] ...HE WILL (details, forthcoming)
and will Meg abandon her mom on her birthday?! #inquiringminds

What should the new Spin-Off be called?
[UPDATED] New SQUAWKING DEAD giveaway, forthcoming: The Road to 1000 The Road to THOUSANDS (details forthcoming)
FTWD Season 5 B Trailer breakdown!

#VictorStrand has #AliciaClark's sword
#MorganJones is crying (and #RickGrimes is an asshole)
Enter #PeterJacobson: First #Jew in the TWD Universe. #yarmulke
Morgan gets dat Grace booty - while burying someone
Enter #ColbyHollman (not Heath)
Sarah & Dwight, "going down with the ship"
the background score is AMAZING. Jumping between camera types, instead of time
Dave (et al) laughs hysterically at some "Ugly Mustard" thanks #GarretDillahunt's grampa. #TheOffice #ParksAndRec
using birdboxes as perpetual motion walker turbines
in praise of and clues contained in #EnglandDan & #JohnFordColey's "I'd Really Love to See You Tonight". #MadisonClark or Sherry?
another (beautiful) tree and kind of looks/sounds like an 80s #sitcom opener?!
big shout-out to FTWD #DirectorOfPhotography, @adam_suschitzky
walkers are finally starting to decay further, like the start of #TWDseason9
abandoned mall; #JohnDorie & June in peril. #DeadRising
#Judasim confirmed: a #synagogue. Fear's #FatherGabriel?
#DanielSalazar & Charlie solidify their relationship
"Sometimes you just can't say goodbye" ?!
#TWDHighwaymen?! with #ColbyMinifie
Logan, "Tell me where the damn oil fields are"
Alicia('s butt) & Strand('s skinny jeans) running from/towards something
Morgan questions #DwightTWD's loyalty. Morgan getting in Logan's face
#Escalaphobia
Dwight getting physical (while tied up)
enemies of F/TWD have all the guns
not a lot of scenes with #LucianaGalvez. #TheFriscoKid
#Kippah confirmation
"We're not doing careful, we're doing right" 5B way more action-packed than 5A

Troll slaying & Nostalgia Porn. #GameOfThrones #Frozen #DonnieDarko #DavidLynch #Avatar
Breaking down the Spin-Off #teaser!

"What if you lived in a world of safety and decided to leave?" #TheCommonwealth? #AlexaMansour #NicolasCantu
Passenger jet shot down by fighter jet: #Althea's 1st tape? #FearTWDseason1
#RositaEspinosa & #Siddiq's baby? #AnetteMahendru
stunning visuals of ugly past & beautiful present #conceptart
Possible meet-up with TWD characters? And zombie children

Breaking down the TWD Movie(s) teaser!

We're looking at snow & borromean rings (on the helicopter & title)
most likely takes place in #CharlotteNC
Meg's got a bone to pick about the $$$ waste
and #AndrewLincoln is filming another movie: #PenguinBloom

Honorable movie/TV mentions #TheWalkingDeader #TheNightEatsTheWorld #FreeFire #BrieLarson #TheWalkingDeceased #TheBoothAtTheEnd #XanderBerkeley #TheBox
BREAKING DOWN THE #TWDSEASON10 TRAILER!

gross walker, love the watery logo, and is that US?!
is that a Cherokee Rose (at the pikes)?!
#SilenceTheWhispers
#Negan recapping to someone
#EugenePorter's CB setup, Rosita crying with her baby
Luke's looking lean with his clockblade #DanFogler
#JudithGrimes discovers #TheWhisperer mask. #ScoobyDoo
Spooky #TWDHenry in #CarolPeletier's vision
Siddiq: #PTSD, #SurvivorsGuilt, ressurecting mistrust. #EnidTWD / #KatelynNacon & #TomPayne pissed about their deaths
#LydiaTWD stick training and butt. #Aikido?
Rosita's in a mood, Negan & Lydia bonding?
#DarylDixon FINALLY confronting Negan
Daryl, stop beating #ThoraBirch!
Getting #Caryl off our chest. Daryl: #ForeverAlone. Shout-Out to @FreakishOrder
More #TheOceanside please and who's threatening #AaronTWD with the crowbar? #MaggieRhee? #BetaTWD?
"Don't miss Maggie's return!" with a [COUNTDOWN]
Negan keeping Judith's promise?
#FatherGabriel's PB&J is what we need. #SethGilliam, however...
AARON'S ARM/FACE THO, and shout-out to @seemishmo. #EvilDead
#Alden needs anti-persperant & Daryl's just hangin back
"Scott" #KenrickGreene to return
"Gamma" replacement Lydia, wearing Enid's clothing
storming the beaches #WonderWoman
Gauge and drum barrel shields
#Michonne sails away from the show with Scott? Siddiq?
#TWDJerry's kids, playing with Judith and #RJGrimes
Dante not like the #comicbook
there's nothing wrong with Rosita's baby
Judith handing Luke a Russian-English Dictionary?
Michonne & #KingEzekiel, #LoriGrimes & #ShaneWalsh vibes? IT'S BEEN SIX YEARS! #Michekiel #Carzekiel
crossing Alpha's border, defended with guns (bullets?). Carol, "Bitch has to die."
recurring (not) background actors? and shout-out to @IAmMarisolCorrea & itsgustavogomez
Earl Sutton, getting some shots in and Gauge looks like #RonAndreson Carol with a flamethrower? Whisperers setting fires?
Carol ribs Daryl and Michonne with #Lucille could be a dream sequence (AKA Negan) or the price to receive Lucille

FearTWD's trailer was CLUTCH. Overall, all these trailers have us PSYCHED about the TWD Universe!
We might record an in-person podcast at #WSCAtlanta. And Meg & Dave don't sleep
#ScottGimple saved the TWD Universe. #AndreaHarrison #CarlGrimes #ChandlerRiggs #CaileyFleming
Dave is AWAY ON VACATION, but we'll be around to cover the #MidseasonPremiere of FearTWD! And Meg is our Slave.