↑↑↑Click the above graphic↑↑↑
to listen to this episode
in your favorite Podcasts App
---
---
Originally Recorded: 2022/08/18 Our FULL Breakdown of #BetterCallSaul's final two episodes (12 & lucky 13) of it's 6th and final season titled, "Waterworks" & "Saul Gone". 🙏THANK YOU for joining us on this incredible journey/experiment in #podcasting and we sincerely hope we always give you more than what you originally walked away with on your first watch!
We've had this episode in the can for a few weeks now, but our supporters have had access to the RAW and unfiltered recording since then, complete with gaffes, yucks, and plenty of HILARIOUS (yet comedically timely) technical difficulties! Early access to our episodes doesn't really interest you, but you still want to jump into the real-time chat as we record so that YOU can lend your insights to our episode breakdowns? It costs nothing to create a FREE account at Ko-fi.com and just follow us on Ko-fi.com/SQUAWKINGDEAD - like Mitchell did for this particular episode - to stay on top of when we record. It doesn't cost a thing! The takeaway? Be more like Mitchell! Start here:
---
| | |
| --- | --- |
| David Cameo: | |
| Rachael Burt: | |
| Sherrandy Swift: | |
| Bridget Mason-Gray: | |
---
A NOTE FROM THE AUTHOR:
It has been an absolute honor
to be able to author these podcasts for team SQUAWKING DEAD. To Dave, Bridget, Sherrandy,
Rachael
, and everyone else who participated in any way: thank you! I loved being able
to guest host during our coverage of Episode 6x07, Plan and Execution
. I caught up on the series during the airing of the first half of season 6 and jumped into authoring the blogs for SQUAWKING DEAD as soon as I finished. There are a lot of things I know I missed - due to having binged 5½ seasons in the span of about two months - and this team did such an outstanding job covering the show and its many complexities. I would also like to thank every single person involved in creating Better Call Saul, both in front of and behind the camera, as well as everyone responsible for conceiving Breaking Bad because, after all, we would not have received Better Call Saul without it. I believe the content within the Breaking Bad Universe is some of the best in entertainment and although I am sad at the prospect of having to say goodbye to Saul Goodman, Walter White, Mike Ehrmantraut, Kim Wexler, and the rest of the gang for good, I am so thankful for the memories we created as a result. I also want to thank anyone who took the time to listen to
SQUAWKING DEAD's coverage of Better Call Saul
and, additionally, anyone who took the time to read these blogs. A special shout-out to Dave for having my back, editing my work, and making sure everything looks correct and polished for all of you glorious readers to consume. My heart is immensely full as I write this. I wish you all the best. Since Sherrandy ended the show with "S'all Good Man!" I guess I only have one thing left to say:
That's Saul Folks!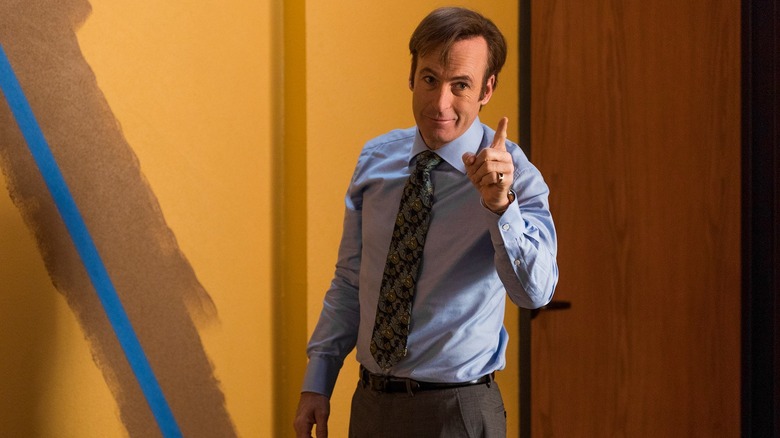 ⭐⭐🌟Like What We Do? Buy Us a Coffee!🌟⭐⭐